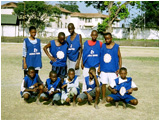 GLADSHOUSE CHARITY
Old Halliford kit's for the children of Mombasa

As you know Halliford Colts gives the kids in the local community the chance to play football in a safe and fun environment.
Unfortunately kids in other country's are not so lucky, so as a club we decided to donate some old Halliford kits to go to some less fortunate children.
GLADSHOUSE CHARITY collect sporting clothing and equipment for the street children in Mombasa, Kenya. Believe it or not there are some 35000 children on the streets of Mombasa, some as young as 3 and 4.Gladshouse try to bring some fun to their lives and a smile to their faces by giving out the sports clothing and equipment and arranging football matches, where the kids can play in a safe environment , get a meal and sleep safely for the night. The streets of Mombasa are extremely dangerous and are rife with drugs and violence .
What we would like to do is if you have any football shirts , shorts , boots , trainers , etc that your kids have out grown , in good or reasonable condition and would like to help the kids in Mombasa please pass them on to your team manager and we will get them to Gladshouse.
If you can help in any way it will put a smile on a young persons face many, many miles away
Please, if you have 5 minutes and would like to know more go to www.gladshouse.com and you will see why it's a good thing to help the street children of Mombasa.
You can also email us for more information on how you can help
Many thanks
Alan Patrick